Small protest against US vice president's Brussels visit
Comments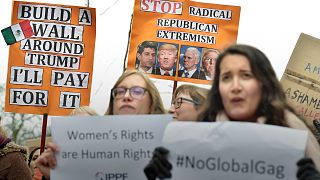 Some 30 people protested against the visit of US Vice President Mike Pence to Brussels on Monday.
The demonstration was organised on Facebook by the organisation "Light for Rights", which held a similar demonstration after Donald Trump's inauguration.
"We have a sociopath in charge, and we have a bigot as a vice-president. So I want be here today just to be part of the resistance because things really need to change," said one American woman, who joined the rally in the EU district of the Belgian capital.
Protesters said they wanted to draw attention to the Trump administration's policies on gays, women, climate change and refugees.