MEPs vote in favour of freezing EU-Turkey talks
Comments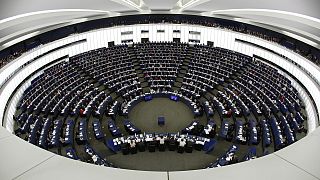 MEPs have voted overwhelmingly in favour of freezing Turkey's EU membership talks.
But the resolution passed in Strasbourg is non-binding, it simply urges the European Commission and national governments to take action.
Freeze EU accession talks with Turkey until it halts repression, say MEPs

Read → https://t.co/aGQAvmsyU5pic.twitter.com/rffuZvWBrC

— European Parliament (@Europarl_EN) 24 November 2016
Purges stoke concern
The European Parliament resolution comes amid growing concerns about Ankara's response to July's failed coup in Turkey.
More than 125,000 people have been detained or dismissed over their alleged backing of what happened. Media outlets have also been shut.
The purges have been seen by some as an attempt to crush all dissent.
Turkey stands firm
President Recep Tayyip Erdogan had already slammed the EU, saying the Strasbourg vote "has no value" in Turkey's eyes and the bloc will have to "live with the consequences."
He has also again accused Europe of siding with terrorist organisations.
The Parliament followed our call to freeze accession talks with Turkey. EU_Commission</a> must implement the recommendation as soon as possible</p>&mdash; Guy Verhofstadt (GuyVerhofstadt) 24 November 2016
Voice of caution
While many MEPs want Turkey's membership talks put on ice, top EU diplomat Federica Mogherini has warned any end to the discussions would result in a "lose, lose" scenario.
The accession talks have been going on for 11 years, but have long been stalled.