Economist Andre Sapir explains impact of Brexit vote
Comments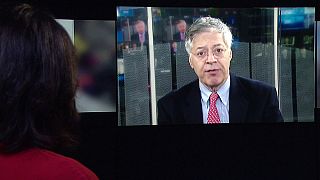 Insiders speaks with Andre Sapir, an economist and senior fellow with the Bruegel think tank in Brussels, on what the United Kingdom can expect post-Brexit.
Sophie Claudet
What do you think could be, reasonably speaking, the long term effect once the UK leaves the European Union?
Andre Sapir
Trade flows, certainly for goods, for services, will continue between the UK and the EU. We are partners and that will remain but I expect that it will be less intense than it is at the moment and especially for financial services.
Sophie Claudet
Does the UK have a lot to lose? Losing access to other markets for example outside the EU.
Andre Sapir
I think the main issue will be the transition. How many years will it take for the UK to renegotiate the kind of access it has to third market from which it benefits now as part of the EU? But in the long term, it will get more or less back to where it is at the moment.
Sophie Claudet
Let's take the example of China. It is in the interest of China to trade with the EU, it is a large block of countries. Is it in the interest of China to trade with the UK?
Andre Sapir
You know that, at the moment, there are discussions between the EU and China about an investment agreement. There are no discussions yet of a bilateral free trade area but that may come in a few years and I would expect that indeed in parallel with the EU-China discussions, there would be UK-China discussions. But once again, I think that will take time. At the moment, the UK doesn't really have the personnel to be able to deal with doing so many agreements with China, with the EU itself, with all the partners with whom the EU has agreements, whether it is South Africa, whether it is Korea, whether it is Canada. So that will take time.
Sophie Claudet
Do you foresee a possible fall in foreign direct investment?
Andre Sapir
I think the FDI will fall during the transition period. As long as there is uncertainty, investment will be hurt and uncertainty can last for many years. Once the article 50 is invoked, it will take 2 years to negotiate the divorce between the EU and the UK but then we will have to make a new marriage at a lower level. Eventually, whether it will be in 5 years or in 10 years, there will be again a climate that is favourable for investment and whether the UK will be able to recoup those losses, I think that's an open question.
Live updates from our Insiders team