Brexit shakes up thriving UK tech sector
Comments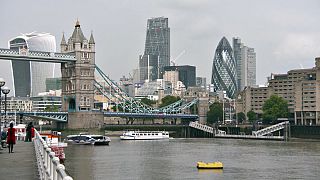 Produced by Sarah Chappell
Voiceover narrated by Catherine Hardy
Uncertainty is always the enemy of investment

Berlin Senator for Economics and Technology
The UK's digital tech sector was overwhelmingly opposed to Brexit. Some startups and tech professionals have already pulled the plug. After Brexit, could Techxit be next?
London 'up in the air'
Emmanuel Lumineau loves London. When the French entrepreneur launched his startup in 2014, he would not have picked any other city.
He runs fintech firm Brickvest, an online financial platform for investing in real estate across the world.
Following the Brexit vote, Lumineau felt he had to act quickly and adapt his business.
He opened a new office in Berlin and hired four people there. Thus, 30 percent of his workforce are now based in the German, rather than the British, capital.
"We have stopped hiring in London," Lumineau says. "We made the decision of Berlin within three weeks of Brexit."
"London unfortunately is very 'up in the air' and we needed a place where we can carry on being very agile."
Berlin vs London?
The dynamic growth of the digital and tech industries has been one of the UK's economic success stories over the last decade.
The digital economy accounts for over 10 percent of Britain's GDP, compared to around 5.5 percent on average across the EU.
London is at the centre of the sector, branding itself in recent years as Europe's answer to the US's Silicon Valley.
But with British capital's status now in limbo due to Brexit, rival European cities – from Dublin to Paris to Lisbon – are seizing the opportunity to bolster their tech startup ecosystems.
The German capital, London's closest European tech rival, has been making the biggest play.
Berlin's Senator for Economics and Technology Cornelia Yzer wrote letters to dozens of British startups, as well as multinational tech corporations with EMEA headquarters in the UK, in the wake of the Brexit vote.
Yzer says her office has held "serious talks" with around 60 British companies about relocating completely or opening a second hub in Berlin.
"Uncertainty is always the enemy of investment," Yzer tells euronews in London, during a trip to open a trade office in the UK – another result of the Brexit vote.
3 months after #Brexit vote & the economic sky hasn't fallen in…but is a storm brewing? My report on UK #tech from Fri. euronewsinsidrs</a> <a href="https://t.co/q2vC7ou5ia">pic.twitter.com/q2vC7ou5ia</a></p>&mdash; Sarah Chappell (SLeandaC) September 27, 2016
"I'm convinced that there are many companies that will decide to keep their London roots, but to have an office in continental Europe as well – something that would not have happened without Brexit," she says.
Britain's got talent – but for how long?
Concerns over regulatory changes once the UK leaves the EU, as well as worries over access to funding have sent ripples through the tech sector, which was overwhelmingly opposed to Brexit.
But for Lumineau, the main reason for opening up in Berlin is personnel, or "talent."
He was concerned about not being able to continue to hire, in London, the best people from across Europe. And he is far from alone.
According to a survey of British-based technology firms, conducted by government backed consultancy Tech City UK after the Brexit vote, 51 percent believe it will now be more difficult to attract and retain the best employees.
And 70 percent want a clear message from the government on EU residents' ability to work in the UK.
Pedro Oliveira runs Landing Jobs, a recruitment service for tech professionals across Europe. He says the Brexit vote had an immediate impact on candidates' desire to move to Britain.
"People actually removed themselves from hiring processes. They actually had two, three interviews – they were probably getting hired. And they just removed themselves, saying, 'I'm not interested in the UK anymore because of all this political instability," he explains.
74% of respondents gloomy about UK tech future. Finding talent main issue according to tech city uk survey – https://t.co/wcWrHqye5M

— Silicon Talent (@silicontalent) July 13, 2016
'Growth trajectory' at risk?
Gerard Grech, CEO of Tech City UK, says the British government is committed to safeguarding the sector and is engaged in talks with tech companies about how to best negotiate Brexit.
Grech believes that fears over a 'brain drain' are overblown, and that the dynamic growth of the digital tech sector is set to continue.
"I don't see why we would anticipate a slowdown given the fact that we have led the way in digital tech policy, there's a critical mass of expertise (in the UK), the conditions for starting and growing a digital business (in the UK) are unrivalled, in my opinion, in Europe.
"I think that unless there are any major blunders, I don't see anything stopping us continuing to be on that growth trajectory."
UK focused venture funds 'struggling' since Brexit vote
There has been a series of positive economic reports since the Brexit vote on 23 June, including strong consumer spending and employment data.
Investment UK tech has also remained buoyant – with dozens of deals sealed, including the 24 billion pound buyout of British software firm ARM Holdings, in the two months after the referendum.
Large investment deals, of course, are planned long before they are executed. And venture funds, which provide much of the investment into startups, tend to raise their capital 1-2 years before deploying it.
The funding environment has changed a lot during the three months since the Brexit vote, but we are not fully seeing the impact yet due to the investment lag, explains venture capitalist Andre de Haes, founder of Backed VC.
"Venture funds have been struggling to raise funds. I know of five funds that were poised to launch in July and August and only one of them was able to launch," de Haes explains.
Furthermore, he continues: "on the companies side, raising (investment) from venture funds, there's been an almost 50 percent decrease in capital deployed so far in Quarter 3 (2016) relative to the same period in 2015."
De Haes says he is "astonished" that the UK government and other experts continue to say that there will be no negative longterm impact from Brexit.
"It's like a couple who are three months pregnant with a baby saying, 'there has been no impact on our lifestyle from this baby'."
"The UK is three months 'pregnant' with Brexit," he says. "Brexit hasn't even manifested itself yet."
The OECD says Britain's exit from the EU is likely to hit the UK economy later but harder than originally thought https://t.co/GTJKCkuJRO

— Financial Times (@FT) September 22, 2016
Survival of the fittest
Despite the challenges, fund managers agree that nimble startups, far more than large corporations, will be able to find ways to innovate and thrive in the uncertain environment.
"Brexit is going to add another complexity," says Lumineau. "But we don't think London will disappear."
"We acted within a month and a half, future-proofing our business model, while others are still waiting for Article 50 to be activated and seeing what happens.
"And that one year, two years, three years will play to our strengths."
Live updates from our Insiders team