Belgian unions march against labour reform
Comments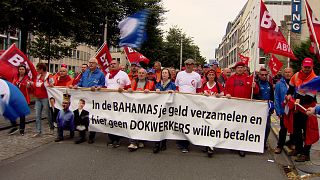 Several thousand people have marched in Brussels in protest at planned labour market reforms.
The centre-right government plans to extend the working week to 45 hours from 38 now.
Ministers also want to cancel an automatic wage hike
Belgium has a system where salaries increase automatically in line with inflation.
Police said 45,000 people were present; Unions said there were 70,000.
Officers had warned local residents and motorists to stay away from central Brussels.
A number of transport lines were also shut as staff took part in the demonstration.