Just 5,000 migrants moved under flagship EU relocation policy
Comments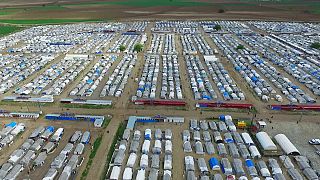 A flagship EU policy to relocate migrants from Greece and Italy appears to have flopped.
But the European Commission is sticking to its guns
It agreed last September to move 160,000 migrants from those two countries within two years.
But just over five thousand people have been relocated.
Commission officials reckon there are thirty thousand eligible migrants still in Greece who will be moved by the end of next year.
The EU's executive arm insists there will be no change in policy.
"We have to boost relocation: relocation must work, and I want to be very clear on that, we haven't made any concession and we have not stepped back from our basic principles on our policy," EU migration commissioner Dimitris Avramopoulos told euronews.
The EU has also agreed a migration deal with the Turkish government
Under the pact, migrants who cross by sea from Turkey to enter Greece will be deported back there if they do not apply for asylum or if their claim is rejected.