EU tries to portray unity amid splits on migration
Comments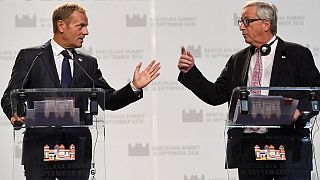 As EU officials admit, the European Union faces an existential crisis.
After the British voted to leave the bloc, splits have emerged on key polices such as migration and defence.
Time then, in true Brussels tradition, for a summit – without the UK – and a show of unity.
The meeting took place in Bratislava, Slovakia as that country currently holds the rotating EU presidency.
German Chancellor Angela Merkel admitted that the EU was in a "critical situation"
"You can't solve all Europe's problems in one summit. What we have to do is show in our deeds we can do things better in the realms of security and fighting terrorism, and in the field of defence," she added in a joint press conference with French President Francois Hollande.
Brexit might not have been on the agenda, but future divorce talks with the UK very much overshadowed this meeting.
The British government will need to work out whether it is willing to swap the current terms for access to the single market in return for tighter immigration controls.
But Donald Tusk, a former Polish prime minister who now leads the European Council, warned there would be no cherry-picking.
"It's nothing controversial among the 27 leaders that our procedures our rules described very precisely in our Treaty are here to protect our interests, the 27 countries', not those of the leaving country," he told reporters.
The leaders may want to project the image of being one big happy family, but it will take more than just talk to win back the trust of voters.
Other Eurosceptic parties are making gains across the continent, especially in France and Germany.
EU officials know they need to make a better case for Europe, otherwise Brexit may not be a one-off.