Terrorism expert calls latest attack a direct attack on rural, Catholic France
Comments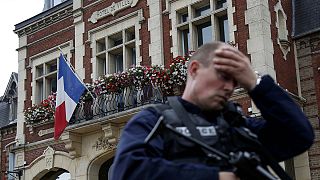 In The Brief from Brussels today, we try to make sense of the latest terrorist attack in France by speaking to a researcher from the Free University of Brussels. Didier Leroy feels that the latest incident is a direct target on rural, Catholic France and an attempt to imitate battles currently taking place in Syria and Iraq but he feels a worst case scenario would be an attack using chemical or bacterial weapons. The military expert fears this latest incident will expose the weakness of French intelligence and security forces as it will mean they will have to work faster to keep up with the pace of attacks covering a wider geographical area.
Meanwhile, the European Commission has rejected accusations from Turkey that the EU is not delivering its promises signed up to in the EU/Turkey migration deal, that promised Ankara up to 6 billion euros in financial aid to keep refugees in Turkey. European Commission chief spokesman Margaritas Schinas insisted Tuesday that the EU is paying money to Ankara under their migrant deal and all other claims are simply not true.
And finally, the European Commission is still deciding whether or not to sanction Spain and Portugal for excessive budget deficits that are out of line with EU rules. The Spanish deficit reached 5.1% of gross domestic product in 2015 and Portugal had a deficit of 4.4% for the same period. Madrid and Lisbon could be sanctioned up to 0.2% of national GDP or have EU structural funds suspended.
But this decision is highly political and as Spain and Portugal were hit hard by the financial crisis, the European Commission could therefore recommend to cancel any possible fine.