Brexit: EU correspondents weigh in on UK referendum
Comments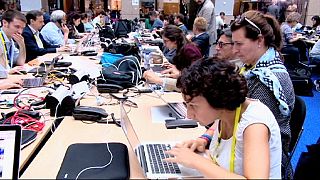 More than 1,000 journalists were in Brussels on Tuesday to cover what is likely to be British Prime Minister David Cameron's final EU summit.
Efi Koutsokosta spoke to some of them to see how the UK's vote to leave the EU was being seen elsewhere in Europe.
They include The Times' Bruno Waterfield from the UK, Dutch journalist Rik Winkel of Het Financieele Dagsblad and Maria Psara of the Ethnos newspaper in Greece.