Turkey misses deadline for visa-free travel in EU
Comments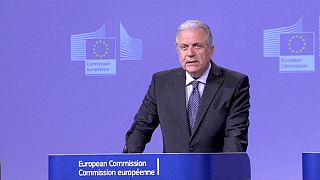 Turkey has missed a deadline set by the EU to meet 72 conditions in order to get visa-free travel for its citizens.
EU commissioner for Migration, Dimitris Avramopoulos, said that although there had been some progress, Turkey had failed to meet some of the conditions.
"Turkey still needs to fulfill the remaining benchmarks of the roadmap, so that visa requirements for Turkish citizens can be lifted soon," he told a press conference in Brussels on Wednesday.
Visa free travel by June was promised as part of a controversial EU-Turkey migrant deal in return for Turkey taking back refugees who had travelled to Greece.
One of the main stumbling blocks has been the EU's demand that Turkey stop using its anti-terror laws to arrest journalists and academics. Ankara insists it needs the laws to protect it from "terrorists" including Kurdish fighters.
There was criticism too for European countries who have not taken their fair share of migrants.
"So far, only 7272 people have been resettled, of the the agreed 22.504 under the July scheme, mainly from Turkey, Jordan and Lebanon, " said Avramopoulos.
The EU commissioner said he does still expect Turkey to meet the conditions but could not say when the deal could be agreed.