Ban Ki-moon urges global unity at 10th annual EU Development Days
Comments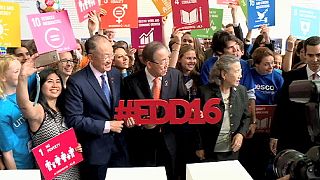 The UN Secretary-General Ban Ki-moon is in Brussels to debate international development policy as part of the 10th annual EU Development Days.
He stressed the need for countries to work together, saying: ''national borders do not defend against climate change, emerging diseases or economic shocks. Our challenges are global and universal and it is only as a global family that we can overcome them.''
The two day event sees world leaders, NGOs and hundreds of speakers come together to debate development policy and brainstorm new ideas for action.
EU Foreign Policy chief, Federica Mogherini, told the conference that promoting development now was vital in order to prevent future disasters.
''We have a duty to contain and face the threats, but we also have the duty – I would say a moral obligation – to unlock the world's immense potential for growth and for sustainable development. Also because this is the most powerful way to prevent future crises, the next conflicts.'' she said.
The EU and its member states are the biggest donors of development aid in the world. However with the economic crisis and rising nationalism, funds have been cut. The buzzword now is 'partnership', and trying get donations from the private sector and philanthropists.