EU agrees 'emergency brake'on visa-free travel within Schengen zone
Comments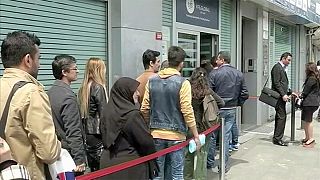 EU Ministers have agreed on an 'emergency brake' for visa waiver programmes for some countries. It comes as Turkey is negotiating visa-free travel for its citizens.
The "safeguard clause" aims to reassure EU countries concerned that citizens in Turkey, Ukraine, Georgia and Kosovo will soon be able to travel freely in the Schengen area
It would mean access could be suspended rapidly, if there were any abuses such as large numbers of people staying past the 90 day limit.
Dutch Minister for Migration, Klaas Dijkhoff, said: "visa freedom has many advantages for both the EU member states and the countries who don't need short-stay visa anymore – but we also said that we should not allow that visa freedom for holiday makers and business travellers leads to abuse."
The proposal supported by the European Commission must now be negotiated by MEPs in the European Parliament.
Turkey has called for visa-free travel to the EU in exchange for taking back migrants who land in Greece