EU referendum campaign kicks off in the UK
Comments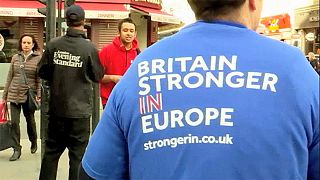 The EU referendum campaign has officially kicked off in Britain.
Voters will decide on June 23rd if Britain should remain inside the EU.
Both camps have been setting out their stalls.
"We're making sure that we are visible as possible to the public, and we're pushing our message out, that we are stronger, safer and better off in Europe," said one Remain campaigner.
But opinion polls suggest the result is too close to call.
"I know we're paying too much to be in the union, that's my view, and I would like us to be the rulers of our own destiny," said a potential Leave voter.
So how to sway those Eurosceptics? The Remain campaign has enlisted the help of a Frenchman living in London.
"The French do not have the right to vote here, like other EU citizens, but I try to influence the debate in my own way," the French national said, who was handing out flyers for the Remain campaign outside London's Paddington Station.
The war of words between both sides looks set to intensify over the next ten weeks.