Brexit: politicians for and against
Comments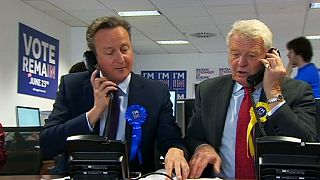 On Saturday, February 20th the UK Prime Minister David Cameron, after reaching an agreement with his European counterparts in Brussels finally announced that June 23 would be the day of the referendum which will decide if the UK is to leave the EU.
On the Monday in the House of Commons Cameron faced a packed chamber which was in fractious mood and fractured. The traditional party lines of right and left were fudged as politicians and ministers positioned themselves for the campaign ahead.
The Labour leader Jeremy Corbyn was not brimming with enthusiasm and did not reveal his personal feelings.
Across the dispatch box David Cameron was facing party dissent.
The Mayor of London, Boris Johnson was in caustic form criticising the "deal" his friend "Dave" had made. Within days he 'came out' in favour of leaving the EU.
And with Boris there were a number of other Tories including Cabinet ministers who, free of a party whip lined up to support Brexit.
The Justice Minister, Michael Gove another friend of the PM was seen as the top politician to put his weight behind the leave campaign.
The leader of the House, Chris Grayling was another to show his support for the leave campaign.
In the opposing camp was David Cameron hitting the phone while forming an unusual alliance and campaigning with the opposition – Europe had united them.
"There are lots of things we disagree about between Labour, Liberals, Greens and others but the fact is we all come together to support the idea of Britain staying in a reformed European Union," the PM explained.
The leader of the Labour Party Jeremy Corbyn – silent for so long – finally broke cover and publically announced his party's official stance.
"You cannot build a better world, unless you engage with the world, build allies and deliver change. The European Union, many warts and all, has proved itself to be a crucial international framework to do that. That's why we are backing the Britain to remain in Europe campaign and I hope you will too," he told supporters.
Scotland's First Minister Nicola Sturgeon has been far from silent on the subject. In media interviews she has not been slow to offer David Cameron advice on the campaign. And the leader of the Scottish National Party has called on the British to vote to remain in the EU and so maintain the union.