Dutch referendum on Ukraine deal is 'anti-European', says Croatian MEP
Comments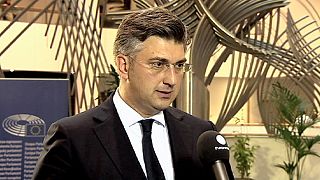 Euronews spoke to the head of the European Parliament's delegation for EU-Ukraine relations ahead of the Dutch referendum.
Andrej Plenković is a centre-right MEP from Croatia.
Natalia Richardson-Vikulina, Euronews: Mr Plenković, what is this referendum about? Is it really about the Nethelands and Ukraine? Or it has a bigger scope?
Andrej Plenković MEP, chair of the Delegation to the EU-Ukraine Parliamentary Association Committee: The association agreement is about bringing European standards and European values to Ukraine. It is not about bringing Ukraine to the EU tomorrow. It is on the contrary our response to the ambitions of hundreds of thousands of Ukrainians who 2 years ago at Maidan said: we want Europe, we want a corrupt free state, we want the state that is based on the rule of law and which has a European perspective.
Euronews: But are we really talking about Ukraine or about Europe?
Plenković: I did not perceive it as a very much Ukraine-related and oriented referendum. I have perceived it more as a referendum which can make signal which is anti-systemic, which is anti-European and which is perhaps anti-mainstream within Dutch politics. We should offer a helping hand to our Ukrainian friends who are victims of aggression, who have one part of their territory illegally annexed and who have another part of their territory temporarily occupied.
Euronews: Many people say that the main topic of this campaign is Putin and his interests. Do you agree?
Plenković: All of the narratives that are surrounding the debate are actually there to distract the voters from the substance of the matter. It is a national referendum that has a European topic and international consequences. This is its specificity. So I sincerely hope that the Dutch who are one of the founding member states of the European Union will take a look at this matter as it should be: and that is soberly, calmly and look at the substance of it. And the substance of it will help the Dutch businesses, Dutch economic cooperators, Dutch investors and Dutch economic trade with the market that has 45 million people. I think it should be seen as the Netherlands is one of the champions of the free trade very much from that point of view where the Dutch-Ukrainian relations will only be improved after this agreement is enforced.