Migrant crisis: Ankara under pressure to act at emergency summit
Comments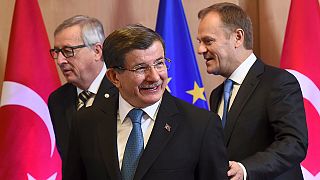 EU leaders are talking migration with Turkey's prime minister at an emergency summit in Brussels.
Ankara is under pressure to take back economic migrants and tackle smugglers, in return for aid and concessions.
Prime Minister Ahmet Davutoğlu said the half-day meeting would also address Ankara's bid to join the EU and he hoped for a "turning point."
"The summit itself shows how indispensable Turkey is for the EU and the EU for Turkey," Davutoğlu told reporters as he arrived in Brussels.
"We have many challenges in front of us, the only way to respond to these challenges is solidarity.
"I'm sure these challenges will be solved through our cooperation and Turkey is ready to work with the EU, Turkey is ready to be a member of the EU as well."
The increased cooperation with Turkey comes at a difficult time – as Ankara cracks down on media freedoms, flying in the face of European values.
"Cooperation with Turkey doesn't mean we accept anything and everything that Turkey asks for," said Francois Hollande, French President.
"We have to be extremely vigilant, and I am, about certain measures, decisions that have been taken, notably about press freedom. The press needs to be free like elsewhere and especially in Turkey."
With beefed up borders leaving thousands stranded in Greece, closing the Balkan route to Germany is also up for discussion. That, and help for Athens to cope with the backlog.
Reporting from Brussels, euronews' Gulsum Alan said: "Facing the migration crisis, the EU is now backed into a corner. The EU is giving a lot of importance to the support that Turkey could bring.
"The Turkish Prime Minister has visited Brussels twice in three months and for Ankara, the solution to this crisis is tied to the resolution of the Syrian conflict."