From Turkey to the Greek islands - an insight into the migrant smugglers trade
Comments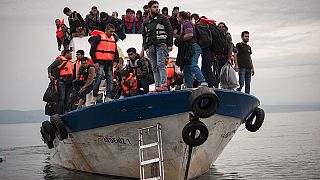 Aksaray Square in Istanbul has been called "smugglers square". It is there that migrants gather almost every day at sundown in the hope of buying a place on a boat to Greece.
Their belongings are stuffed into plastic bags so too are life jackets which they buy at the square..
The park is central to the human trafficking business and the trade is good despite pressure on Turkey to crack down on it.
Among the smugglers are Syrians, including Ali.
"Smugglers agree on the place where the buses are and ask the people to go there to avoid any problems or to avoid the police capturing the bus. They take them to places where there are no police. They monitor the area and when there is no police they will make phone calls among themselves then they gather and leave on the bus. Within 15 minutes everything is ready and the bus is on its way," he explained.
Sometimes the buses are intercepted on the road. A fine is imposed, the bus and passengers turned back. But mostly the journeys end in Turkish coastal towns which lie a short risky boat trip away from the Greek islands. Ali admits some smugglers don't care about the dangers to life.
"There is mostly pressure on the departure points at the coast because the Turkish coastguard in particular has upped the ante. Of course there are smugglers who do not care if there are high waves or no waves. The moments the migrants get to him, he wants to send them off in any way possible," he said.
The average fare is around the equivalent of 900 euros for departures from those prime locations which are short distance from the Greek islands.
Those caught smuggling face between three to eight years imprisonment while the sentence for human trafficking can be up to 12 years. Ankara has stepped up law enforcement and introduced a raft of measures in cooperation with the EU in a bid to stamp out illegal migration.
"Right now it's winter, between January and February and despite unfavourable weather conditions, compared to the same time last year the number of apprehensions, the number of migrants rescued, the number of smuggler arrests is much higher," Bahadir Yesiltepe, Izmir Police Department, anti-smuggling crimes branch said.
It's believed legislation is likely to be amended to introduce more severe penalties. But despite the current efforts the large crowds which gather at smuggling hubs in Istanbul or Izmir is proof the deterrents are at the moment ineffective.