Greece fumes over Austria's 'hostile' migration policy
Comments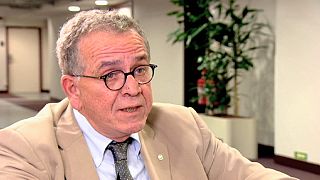 Austria's tough stance on migration is undermining the EU's response to the refugee crisis, Greece's interior minister told euronews on Thursday.
Yiannis Mouzalas branded Vienna's decision not to invite Greece to a mini-summit on the topic as "hostile"; Athens has since recalled its ambassador from Austria over the row.
"Austria used to be a friendly country, now it's taking a hostile action. We don't describe it as a hostile country but we clearly say that this specific action is hostile and painful for our country but also for Europe," he told euronews' Efi Koutsokosta.
"The EU plan which Austria supported was saying no fences but relocation, not setting dogs on the migrants but resettlement, not close borders but registration. There is a clear plan."
"It's clear that as these broken promises are increasing, we will also go to unilateral actions. Not because we want to but because we will not have any other choice."
Mouzalas was speaking after a meeting of EU interior ministers in Brussels on the matter.
Officials close to the discussions said that Mouzalas clashed with his Austrian counterpart, Johanna Mikl-Leitner.
On leaving the meeting, Mikl-Leitner called into question Greece's place in the passport-free Schengen zone and whether the country could properly manage its borders.
"If it is really the case that the Greek external border cannot be protected, can it be still a Schengen external border?" she said.
Leaders will meet again in the Belgian capital on March 7th with the Turkish government to seek further progress on how to solve the crisis.
They will assess a three-billion-euro deal inked with Ankara in November aimed at stemming the influx of people from Turkish shores.