Turkey urges EU to honour €3bn refugee cash pledge
Comments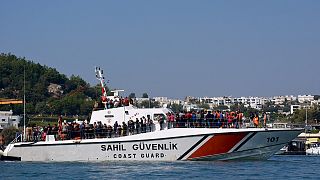 Turkey has told the EU to stump up the three billion euros promised by governments to help Ankara stem the flow of migrants to Europe.
That deal was struck in November but Italy has blocked any disbursement of funds until now.
Turkey Foreign Minister Mevlüt Çavuşoğlu told EU foreign policy chief Federica Mogherini that the government urgently needed the money.
"Regarding the delay of 3 billion euros for the refugees, we don't take it personal, it's has nothing to do with Turkey. It's the internal matter of the EU. But i have to remind that any delay of the amount of the money coming for the refugees is affecting the daily life and the living standards of the refugees in Turkey," he said at a press conference in Ankara.
EU officials say Turkey has to deliver on its part of the deal; diplomats in Brussels are unhappy that few steps appear to have been taken to stem the flow of migrants to Europe.
"The EU member states, I have to say, are watching very closely whether the numbers of irregular migrants go down due to Turkish actions and where this migrants come from," said Johannes Hahn, the EU commissioner responsible for neighbourhood policy.
One million refugees and migrants reached Europe last year by land or sea illegally, according to the International Organisation for Migration.