Polish PM rebuffs EU criticism of media laws
Comments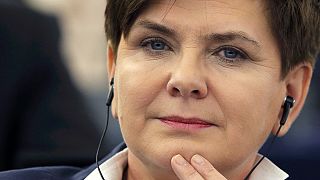 Poland's prime minister has rebuffed EU criticism of her government's media and judicial reforms.
Beata Szyldo told MEPs that changes to the country's constitutional court and how state media operates were an internal matter.
"Sometimes in Poland, we hear voices; voices that hurt, voices which are unfair, that are unjust to Poland and the Polish government. It is possible that these voices speak out of a lack of information, or possibly even bad will," she said.
Szyldo added that "changes we carried out reflect EU standards and in no way differ from standards in other EU states."
EU officials believe the changes could be a threat to the rule of law.
Poland has asked the human rights body, the Council of Europe, to assess its reforms.
However, the Council of Europe is not an EU institution.
Its investigation is separate from the European Commission probe.
Szydło's appearance at the European Parliament comes one day after the Polish president launched Warsaw's PR offensive in Brussels following talks with high-level EU officials, including European Council president Donald Tusk.