Poland moves to soothe tensions with the EU
Comments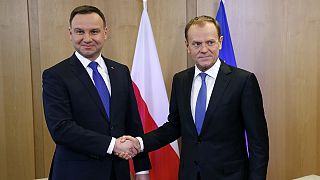 The president of Poland has moved to boost his country's battered reputation amid EU fears over the threat to the rule of law there.
Officials are investigating new media and judicial reforms, but Andrzej Duda, who was in Brussels for talks with European Council president Donald Tusk, called for the rhetoric to be toned down.
The pair are from being close political allies. Tusk led the centre-right Civic Platform government from 2007 to 2014, before resigning to take up his top EU job.
Duda hails from the conservative Law and Justice party, which won last October's parliamentary election in Poland, ousting Civic Platform from power.
"A lack of a deeper objective analysis sometimes leads to unnecessary discussions, exaggerated emotions as seems to be the case now," Duda told reporters in Brussels. "This serves neither European unity nor the interests of our country."
The new Polish government has sought greater powers to hire and fire state media executives, as well as appoint new judges.
"What's of key importance for Poland is to maintain it's very good reputation, a reputation it has worked on for 25 years," said Tusk in a thinly-veiled warning to his one-time political opponents.
Rival demonstrations have been held across Poland; similar protests took place outside the EU headquarters in Brussels as Duda and Tusk met.
"The new government is introducing changes for example that limit the independence of the high court. They have just voted another law which is a threat to free media," said one woman, who asked not to be named, from the Committee for the Defence of Democracy.
But others said a European Commission investigation into the new laws was misplaced.
"Democracy in Poland is in good shape. There's nothing to worry about. On the contrary, what the opposition is doing is an abuse," explained a female protester who said she "sympathised" with the current Polish government, but stressed that she was not a member of the Law and Justice Party.
Warsaw's PR offensive moves to Strasbourg, France, on Tuesday where the country's prime minister, Beata Szydlo, will face MEPs.
Those talks look set to be fraught to say the least, reports euronews' James Franey.
The head of the European Parliament, Martin Schulz, angered Poland in December by comparing the situation there to "a coup d'etat".
Schulz has so far rebuffed Polish demands to apologise for his remarks made in an interview with German radio.