EU to discuss Polish media laws
Comments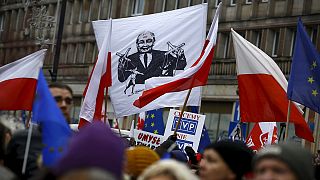 Poland's new conservative government faces further scrutiny on Wednesday as the European Commission debates new laws seen as reining in the country's state media.
Two weeks ago, Poland's Law and Justice party rushed through new laws that will automatically sack all top executives at the country's public television and radio companies.
Andrzej Duda, the Polish president, signed the bills into law last week, despite critics saying the move undermines the freedom of the press.
But officials at the EU executive say they are not yet considering the so-called nuclear option: a recommendation that Poland lose its voting rights at EU level.
It would require a qualified majority of EU countries to agree.
The European Parliament advocated a similar move back in 2011 when Prime Minister Viktor Orban passed new legislation tightening the government's control over state media.
The legislation has sparked opposition demonstrations in Warsaw.
But the new government has rejected any concerns.
It has defended the new law, expressing surprise and displeasure with the Commission's interference in the matter.
Ministers in Warsaw argue changes were needed because of state media's alleged "extreme bias" in favour of opposition parties.
The Law and justice party won October's parliamentary, ending eight years of rule by the centre-right group, Civic Platform.