The right to be forgotten on the internet
Comments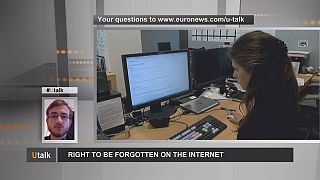 This week on Utalk we answer a question from Sandra in Paris:
"Eighteen months after the ratification of the right to be forgotten online by the European Court of Justice, what is the current situation? Do internet giants play by the rules?"
Answering the question is Max Chouzier, a legal expert from Reputation Squad – a Paris-based agency specialising n managing online reputation.
"Well, one very positive point about this decision is that individuals and professionals are now more aware of the fundamental importance of privacy and personal data protection.
"Now is this court ruling efficient? Well it's very simple: all search engines do apply it, but ONLY on a minimal basis.
"In practical terms, how does it work? Search engines have put in place free online forms that are very quick and easy to fill in and which allow any internet user to ask search engines to remove content the applicant feels is problematic.
"Search engines have the obligation to consider every request but they have no obligation whatsoever to give them a positive answer. If you look at the figures recently released by Google for instance: Google received around 350,000 requests and they say they complied with half of them.
"When search engines started to apply this ruling they considered that its scope was only European-wide. Consequently they only apply it to their European versions. So if you want a link to be removed from Google France for example, it will also be taken off Google UK and all Google's European versions.
"But the link will not be removed from Google.com, which is Google's international version, or from the American or Canadian versions, or from a country which is not European. On that matter, there is a real dispute between the EU and search engines."
You can watch Utalk by clicking on the video.
If you want to ask a question click on the button below.