Malta migrant summit: EU leaders unveil Africa fund and debate Turkey deal
Comments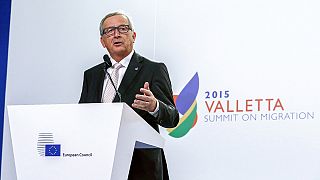 Desperately seeking solutions to Europe's migrant crisis, EU leaders have unveiled an emergency trust fund for Africa.
It is part of a bid to combat poverty and conflict fuelling the fleeing of people.
The European Commission will inject 1.8 billion euros into the fund, unveiled at a summit with African leaders in Valletta, Malta.
EU officials later held an informal meeting on the island and criticism of refugee relocations in Europe followed.
"I am not at all satisfied with the pace of relocations that we have seen. To this day, 130 people have been relocated, while our intention is to relocate 160,000," said Jean Claude Juncker, European Commission President.
"If we continue at this pace, we won't relocate this number until 1 January 2,101. Therefore, it's necessary for us to adopt a more ambitious pace."
Turkey is said to have dominated talks at the informal meeting in Malta.
EU leaders are keen to strike a deal to slow the flow of migrants from the country. Grants, possibly three billion euros worth, and other incentives are on offer to Ankara.
In return, German Chancellor Angela Merkel said: "Turkey could be ready to speed up the implementation of the readmission agreement for nationals from third countries.
"The readmission agreement for Turkish citizens is already in place. But they could speed up readmission for nationals from third countries."
Speaking from Valletta, euronews correspondent James Franey said: "So the EU's courting of President Erdogan continues. Officials on the sidelines here are talking about a possible EU summit later this month with the Turkish leader."