Traumatised Yazidis reluctant to return to Sinjar..for the moment
Comments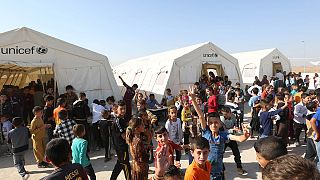 In a refugee camp in the mainly Kurdish southeast province of Diyarbakir in Turkey members of the Yazidi community that fled the ISIL occupation of Sinjar are reluctant to return home, for the moment:
"ISIL killed all of our children and men. They kidnapped our women, We are afraid to return. There is no peace in that town. They demolished our homes. We have nothing left there. There should be a safe environment if we were to return. Otherwise we can't go back. Therefore we don't want to return at the moment," said a Yazidi woman.

No caption is sufficient to describe their life situation #refugees#Yazidis#Assyrianspic.twitter.com/j77kD7l6RT

— Miss Sulaiman (@nnaabbaaaa) September 13, 2015
Camp de #réfugiés où vivent entassées 4 000 familles yézidies #irak#kurdistan#yazidis#refugeespic.twitter.com/4D3oPnER3b

— Shennong & Avicenne (@shennong_avi) September 9, 2015
The offensive to retake Sinjar from ISIL will at least give the traumatised Yazidis a glimmer of hope that sometime in the future it will be safe for them to return to their homeland.