EU interior ministers discuss speeding up relocation of refugees
Comments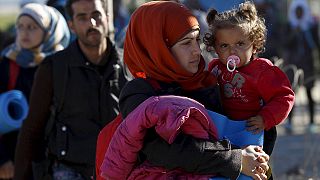 Speeding up the relocation of refugees, strengthening borders and fighting human trafficking are up for discussion, as EU interior ministers meet in Brussels.
The meeting comes after Greece sent its first refugees to Luxembourg last week.
"If the main target countries, namely Sweden and Germany, are overwhelmed and forced to close their borders, then there could be a domino-effect," said Jean Asselborn, Luxembourg's Foreign Minister.
"And I don't know what consequences it would have on the Balkan countries. We have to ensure Schengen is not put at risk. And we have to prevent the loss of the culture of humanity, which is holding the European Union together."
More than three quarters of a million migrants and refugees have crossed the Mediterranean so far this year. Over 3,400 have died while making journeys by sea.
"We need to put European solidarity into practice, including the distribution of 160,000 refugees," said Thomas de Maizière, Germany's Interior Minister.
"It is going very slowly, it has to be better. We're also fighting for a permanent distribution mechanism, after the one off measure of 160,000."
European and African leaders will discuss the crisis at a summit in Malta later this week. But whatever the outcome, it is clear many migrants will continue to head for the EU – in search of a better life.