NATO showcases military might amid multiple threats on its borders
Comments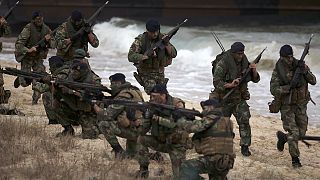 NATO and its allies have been staging their biggest military exercises in more than a decade.
Trident Juncture boasts 36-thousand troops from over 30 nations, 140 aircraft and more than 60 ships.
The show of strength was planned long before Russia's build-up in Syria and is independent of events. But the escalation of conflicts across the Middle East and North Africa are challenging NATO to react to multiple threats on its borders.
NATO Secretary-General Jens Stoltenberg and other senior officials have been observing part of the exercises. They visited the British helicopter carrier HMS Ocean on the Portuguese coast, along the Troia peninsula.
Stoltenberg spoke to euronews reporter Andrei Beketov.
Andrei Beketov, euronews: "Over the course of this exercise, NATO was conducting clearly offensive operations, it is training to attack. What does it tell us about the strategy of NATO? Is it evolving?"
Jens Stoltenberg, NATO Secretary-General: "NATO is a defensive alliance and our core, our main task is to protect all allies against any threats and everything we do is proportionate, its fully in line with our international commitments. But we had (have) to respond when we see a more challenging security environment, when we see turmoil, violence spreading across the Middle East (and) North Africa.
"And also when we see something that is very different, but still a challenge for NATO. A more assertive Russia which has, over many years, built up its military capabilities, also along NATO borders."
euronews: "What's your issue with Russian presence, in particular in the Mediterranean, but also around the Baltic area?"
Jens Stoltenberg: "This is something which experts are calling anti-access, area denial. It means that Russia has deployed different weapons systems, different capabilities, which are aiming at denying other forces access to the area. That will of course reduce our ability to reinforce if needed."
euronews: "We've seen more military exercises in Europe recently and they are getting more serious. Who's behind this race and is it fair?"
Jens Stoltenberg: "I am concerned because we have seen that Russia has started the, a new practice of many snap exercises and the observers are not invited to those exercises and this of course decreases predictability, decreases transparency."
euronews: "The President of Russia said that he was thinking about getting the nuclear arsenal ready in case Russia has to defend Crimea. Why didn't you include this element in this exercise?"
Jens Stoltenberg: "Because we very much believe that nuclear weapons has to be dealt with in a very cautious, predictable way and for us nuclear weapons are part of the deterrence."
euronews: "Is NATO still building a missile shield in Europe?"
Jens Stoltenberg: "We are continuing as planned with the development of the missile defence system in Europe. That is part of our deterrence and the reason why NATO wants to have and continues to have strong collective defence is not because we want to fight the war, but it is because we want to prevent the war."