Thousands of refugees enter Slovenia as Ljubljana seeks EU help
Comments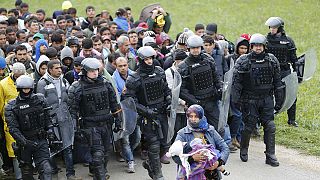 More than 12,000 migrants have crossed into Slovenia in the last 24 hours and thousands more are expected.
Thousands of refugees, most of them from Syria according to the International Organisation for Migration, are making their way through the Balkans.
Officials have asked the EU for help.
"The Commission stands by Slovenia and we are ready to assist the country both, technically and financially. we are ready to consider deploying migration management support teams to Slovenia, if the country needs them, to help the authorities with the management of the increasing migratory flows," said Dimitris Avramopoulos, the EU commissioner for migration.
The government says it will need to spend nearly 800,000 euros a day to manage the flow of people.
"Slovenia is making it very clear: the external border of the EU in greece has to be protected. Greece is that country inside the EU through which the migrants are arriving in great numbers and completely uncontrolled," said Vesna Györkös Žnidar, the Slovenian interior minister.
Slovenia's parliament recently passed legislation to give the army more powers when guarding the border.
Slovenia has a population of some two million people; officials say more than ten thousand refugees are currently living there.