Disabled people protest for more rights
Comments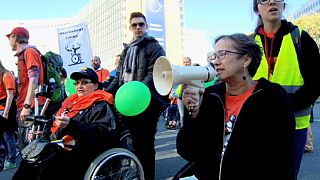 Hundreds of people with disabilities have protested outside the EU institutions in Brussels.
The protest was organised by the European Network on Independent Living.
It wants to make European decision makers aware of the obstacles disabled people face on a daily basis.
"The situation is quite different from one country to another. For example, here in Belgium, we have waiting lists, to have right on personal assistance. In other countries it doesn't even exist. They don't have personal assistance budgets," said Nadia Hadad, a spokesperson from the European Network on Independent Living (ENIL)
It is the seventh-ever 'Freedom March', although this is the first time that it has been held in the Belgian capital.
"Research has shown that we are the hardest hit in society because we are the lowest fruit to pick of the tree. It's not acceptable and we need to stop it now," said Paul Fagan, an Irishman who suffers from spina bifida, a spinal condition which causes damage to the central nervous system.
More than 1 out of 5 people with disabilities (21.1%)
are at risk of poverty in the EU, according to a 2012 report by the European Foundation Centre.