New migrant camp announced for Calais
Comments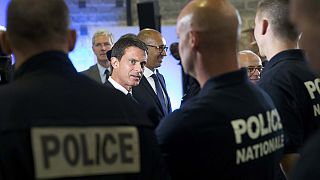 France is getting an extra five million euros to help migrants, who are living in squalid conditions in Calais.
European Commission Vice President Frans Timmermans announced the funding. He has been visiting the northern port, along with other top EU officials.
For Britain and France, Calais is the focus of the wider migration crisis.
"We will make up to five million euros available to the French authorities," said Timmermans.
"It will be used to set up a camp that can provide humanitarian assistance to around 15-hundred migrants. The money will also go on transporting asylum seekers to other destinations in France."
A woman, reportedly a Femen protester, was led away after voicing criticism as France's prime minister spoke in Calais. She is said to have shouted "it took 200,000 people to regain your humanity."
Away from the officials, thousands of migrants are currently living in a makeshift camp in Calais. Flimsy tents and plastic are their only protection from the elements.
Boarding lorries bound for Britain is the aim for many. The entrance of the Eurotunnel undersea link is nearby.
Euronews reporter Sandor Zsiro said: "In this area of Calais, dubbed 'The Jungle,' the humanitarian situation is unbearable, the conditions dire.
"In recent months, the authorities have built this fence, which aims to help stop migrants attempting to climb on trucks."
More than 300,000 people have crossed the Mediterranean this year. Nearly 181,500 have arrived in Greece and 108,500 in Italy, according to the UN High Commissioner for Refugees.