Disneyland Paris overcharging foreign visitors, says EU
Comments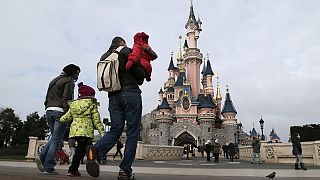 Disney is once again under fire from European regulators – this time for overcharging visitors to its only European theme park – Disneyland Paris.
The European commission's competition watchdog says Disney charges higher prices to customers buying premium packages outside France.
"The fact that a company establishes different prices or tariffs for products or services in different markets is not in itself illegal," Lucia Caudet, a spokesperson for the European Commission said on Wednesday (July 29). "But what is contrary to article 20 of the services directive is not to allow consumers to go on other websites or physically to other markets to access to these services."
French customers buying a premium package to Disneyland Paris pay around €1,300 euros; the same package costs over €1,800 euros in the UK and almost €2,500 euros in Germany.
Disneyland Paris said any price differential was due to anti-fraud measures that limit certain promotions to customers whose credit or debit cards are registered to a particular country.
Today's case come just days after the Commission levied antitrust charges against Disney and five other Hollywood studios for the unfair treatment of some pay-TV customers in the UK and Ireland.