EU finalises 7 bln euro bridge loan for Greece, says debt 'restructuring' back on table
Comments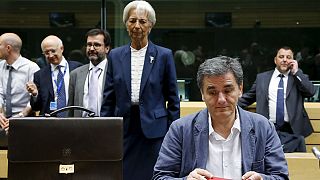 The European Council has announced a 7.16 billion euro bridge loan for Greece.
Furthermore, the question of debt restructuring – not part of the deal reached between Athens and its creditors earlier this week – is now back on the table.
Valdis Dombrovskis, the EU Commissioner for the Euro said the issue "is certainly back on the agenda."
Dombrovskis also said that "it was also a clear conclusion by the Euro Summit that there would be no nominal haircut (an agreed percentage reduction in the amount of debt to be repaid to creditors)," Dombrovskis explained.
The International Monetary Fund (IMF) has been insisting that debt restructuring be part of any new financial rescue package for Greece.
IMF Managing Director, Christine Lagarde said "significant restructuring" could "take the form of a re-profiling for Greece."
"I'm very realistic and we try to be. What we heard loud and clear is that euro area members are not particularly keen to do haircuts," Lagarde added.