EU divisions: is 'eurogeddon' just a matter of time?
Comments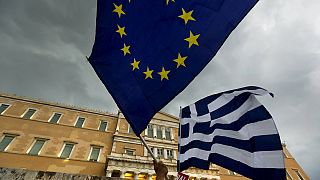 The threat of Greece leaving the EU, or a "Grexit," has deeply shaken Europe.
While officials prepared for a worse case scenario, eurosceptic leaders were cheering, like Nigel Farage from the UK Independence Party.
Is the Greek crisis only the starkest example of a multi-speed Europe headed for a downsizing or even extinction?
European leaders are also deeply divided over migration.
And will Spain be the next crisis? With elections there in autumn, euro-sceptic parties have surged in the polls amid anger over EU-mandated austerity policies.
On The Network, these issues are debated by Pavel Telicka, a Czech MEP and Vice President of the Alliance of Liberals and Democrats or ALDE; Pierre Vimont of the think tank Carnegie Europe and a former diplomat; and Pablo Bustinduy, co-ordinator of the European parliament delegation of Podemos, the Spanish leftist party.