Hollande says Greek debt plan 'serious and credible'
Comments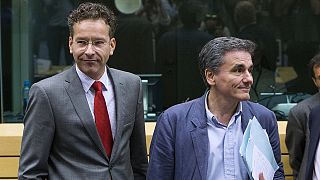 EU leaders have been giving their first reactions to the new Greek bailout proposals.
France played a key role in helping Athens draft them; unsurprisingly the country's leader is optimistic.
"The Greeks have just shown their determination to remain in the euro zone, since the programme they are presenting is serious and credible," said French President François Hollande.
The head of the informal body of the eurozone finance ministers remains somewhat more sceptical.
Dutch finance minister Jeroen Dijsselbloem said: "Massive support from the Greek parliament is certainly helpful. It does provide more credibility for Greece. but we'll have to look at the total financial outcome, especially the financial support that will be necessary in the coming years."
But the German government will also need to be convinced. The bailout deals for Greece have been hugely unpopular with voters there.
"It would not be enough if the proposals were the ones from the end of June, just presented in new packaging. we need comprehensive reforms because it is not about extending an existing program for some months but a program over three years," said Martin Jäger, a spokesman for the German finance ministry.
Eurozone finance ministers will meet in Brussels on Saturday to try and thrash out a deal once and for all.
If they fail, heads of state and government will decide what to do next.