The tide turns as Irish economic migrants seek work at home
Comments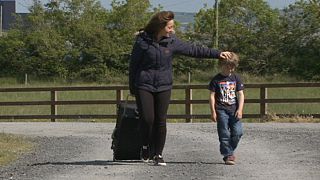 Emigration is nothing new to Ireland and it was little surprise when thousands of young people streamed out of the country in the aftermath of the economic collapse of 2008.
I moved over to China in 2011, but my long term aim was always to come back home, to come back to Ireland. In the Irish economy right now things are improving, there are more jobs, there are more positions. Companies are starting to think about long term hiring plan
Now, with Ireland's economy well on the road to recovery, the outward flow is reversing. Young people who left to find work in America, the UK, Australia and elsewhere are taking their skills back to the country, where job opportunities are steadily increasing.
While people are still packing their bags, it's expected the numbers returning will soon overtake those leaving, as the economy and job prospects improve.
But what impact has the parting had on exiles and their families and how has the experience of living abroad changed them? Hans von der Brelie travelled to Ireland to meet some of those who have returned, catching up with one young woman we featured in a Reporter in 2012 as she was preparing to take a plane to Australia.
Click on the button to watch his report.
Seamus Coffey: 'Net migration will be around zero'
Euronews met economics lecturer Seamus Coffey on the campus of University College Cork, in Ireland. To listen to this analysis of Irish migration flows and today's economic situation click on the link above.