Holiday cancellations: what are my rights?
Comments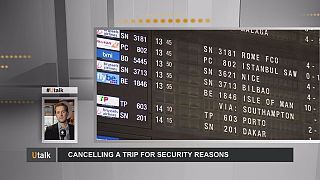 Sometimes it's not clear what to do when a holiday or trip is cancelled and what your rights are as a consumer.
Ewa from Warsaw asked Utalk: "If I cancel my trip due to security threats in my country of destination, do I get a refund ? As a European consumer, am I entitled to any specific rights?"
The response is from William Matgen, legal adviser, at the European Consumer Centre, Belgium: Consumer rights in this kind of situation depend on who took the decision to cancel the trip. Often it is the travel professionals, such as airlines or tour operators who take the initiative, based on advice from the Ministry of Foreign Affairs.
"In this case the consumer's situation is quite simple since they're protected by various legal texts guaranteeing a refund. The consumer's situation is much more complicated, however, when the travel professional decides to maintain its services and it's the consumer who decides spontaneously to cancel his trip.
"Indeed, in this case it is not covered by any particular legal text. If you have taken out cancellation insurance, you must check if it covers cancellations for causes of political unrest.
"Unfortunately, this type of insurance often excludes such cancellations and the consumer will be required to pay a cancellation fee which can be very high.
"But, if the consumer has booked a package holiday, that is flight and accommodation, and they decide not to stay in the hotel because it's not what they expected, they can claim reimbursement.
"We often advise consumers who booked a package holiday to contact their tour operator to ask for a"gesture of goodwill", an alternative holiday in a safer destination,. Generally, travel agencies will try to accomodate the customer.
If you would like to ask a question on Utalk, click on the button below.