IMF blasts Greece over lack of progress in debt talks
Comments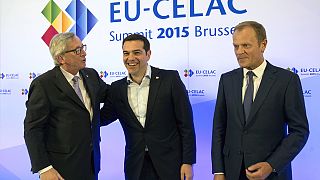 "Major differences" remain between Greece and its international creditors, the International Monetary Fund said on Thursday, as officials tried to broker a deal to save Athens from bankruptcy.
The team from the IMF, often described as the world's 'financial crisis firefighter', left Brussels after negotiations at an EU summit failed to produce an agreement acceptable to all parties involved.
"There are major differences between us in most key areas," IMF spokesman Gerry Rice told reporters in Washington. "There has been no progress in narrowing these differences recently, and thus we are well away from an agreement."
Greek Prime Minister Alexis Tsipras wants a further restructuring of his government's debts as a 1.6-billion-euro payment deadline looms at the end of June.
The Greek premier, elected on an anti-austerity platform in January, opposes the pension cuts and labour market reforms demanded by creditors as conditions for tapping fresh bailout aid.
In a sign that EU officials are also running out of patience with Greece, Donald Tusk, the president of the European Council, told Athens that "we need decisions, not negotiations now."
"It is my opinion that the Greek government has to be a little bit more realistic, there is no more space for gambling, there is no more time for gambling, the days are coming that someone says that the game is over, I am afraid," Tusk, the former Polish prime minister, told reporters in Brussels at a joint press conference with European Commission president Jean-Claude Juncker.
Juncker, who leads the EU's executive arm, later held talks with Greek premier Tsipras, but the former Luxembourg prime minister could not find a breakthrough
"If the process was working properly the president would not have had to have a meeting with Tsipras today. President Juncker made a last attempt to make a deal possible," an EU official was quoted by the Reuters news agency as saying.
German Chancellor Angela Merkel and French President François Hollande vowed on Wednesday that negotiations would be "intensified" to reach a deal.
Eurozone finance ministers and IMF chief Christine Lagarde will meet in Luxembourg on June 18th in yet another bid to find an agreement; the EU's Tusk said that meeting is being seen as "decisive".
Without a deal, Greece will default and could exit the eurozone.