EU calls for 40,000 asylum seekers from Italy, Greece to be relocated
Comments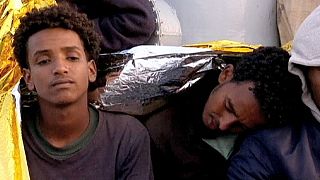 EU member states should take in some 40,000 asylum seekers, mainly from Syria and Eritrea, who land in Italy and Greece over the next two years, the European Commission said on Wednesday.
Under the plan, Germany (8763), France (6752) and Spain (4288) would receive the most of them.
The rest would be shared out amongst twenty EU countries.
But this scheme would require approval from leaders and MEPs if it is ever to become a reality.
The UK, Denmark and Ireland already have opt-outs; a number of central and eastern European states have voiced their opposition.
"The relocation mechanism proposed in this decision constitutes a fair burden sharing between Italy and Greece on one hand and on the other hand member states who are also invited to contribute," said Dimitris Avramopoulos, EU Commissioner for Migration
Those two countries have often borne the brunt of the massive influx of refugees and asylum seekers in recent years, but NGOs say they still have a role to play.
Italy and Greece "shouldn't be relieved from their responsibilities in reception and assistance and in granting protection," said Aspasia Papadopoulou of the European Council on Refugees and Exiles.
"These 40.000 are just one part of the rest that will be arriving in italy and greece. we have the summer months ahead of us – there will be thousands of people arriving."
Ministers already plan a new EU naval force to fight smuggling gangs.
It will, if necessary, use military force, inside Libyan territorial waters.
But the UN Secretary General Ban Ki-Moon, who was visiting Brussels on Wednesday, warned it could disrupt local economies.
"When you consider destroying these boats, you may end up, eventually, in depriving off even the very limited means of those people," he said.
At least 1,800 people have died trying to cross the Mediterranean since the start of the year, making it the most deadly sea crossing in the world.