EU warns eastern neighbours of long road to closer ties
Comments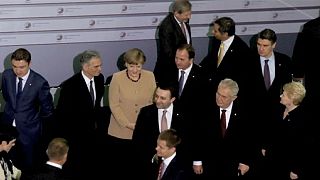 EU leaders say they want to continue building ties with their eastern neighbours, despite pressure from Russia.
However, officials say that process will not be rushed.
Ukraine, Moldova and Georgia say they, one day, want to join the EU.
"The European Union is a partner for the long haul: our partnership as well as the Riga summit itself are not about dramatic decisions or taking giant steps forward, no our relationship is built on free will, respect and equality. Our relationship will go forward step by step," said Donald Tusk, the president of the European Council.
A similar summit two years saw Ukraine back out of a trade deal with the EU.
The country's leader says closer ties with Brussels is a key part of its foreign policy.
"Within the framework of the Eastern Partnerhsip, every country has their own opportunity and possibility, and this is the difference from Russia, because in the Russian sphere of influence, all country should follow the principles which are dictated from one centre," said Petro Poroshenko, the president of Ukraine
The six Eastern Partnership countries are clearly divided into two camps, reports euronews' Natalia Richardson.
Ukraine, Georgia and Moldova want at a certain point to join the EU, whilst Armenia, Azerbaijan and Belarus do not have European aspirations, our correspondent says, prompting some observers to suggest that the European Union should change the format of relations with its eastern neighbors."