Poroshenko has 'full evidence' of Russia's presence in Ukraine
Comments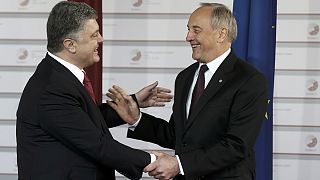 Two Russian soliders captured in eastern Ukraine have admitted to serving in the Kremlin's armed forces, according to the OSCE.
The group aims to prevent and manage conflicts in Europe.
Arriving at an EU summit in Riga, Latvia, Ukrainian President Petro Poroshenko told reporters: "We have the full evidence of the presence of the Russian army, the regular troops. Today, as you probably know, the OSCE and the International Red Cross (ICRC) made an official statement that the soldiers which are now in our hospital receiving the proper treatment are real soldiers of the Russian troops."
EU leaders are meeting in the Lativan capital to assess ties with the bloc's eastern neighbours.
A similar summit two years ago saw Ukraine back out of signing a trade deal with Europe under pressure from Moscow.
Denmark's prime minister, Helle Thorning-Schmidt, said: "I don't think that any country should have to choose between the EU and Russia and I think that the meeting we have today underlines our commitment to the Eastern Partnership, underlines that each country is a sovereign country and they have the right to choose for themselves."
Russia has in the past described the EU's overtures to its former satellite states as a provocation.
Moscow's envoy to the EU is Vladimir Chizhov.
He said: "Some EU member states don't genuinely regard the Eastern Partnership as an instrument of bringing the target countries to the European Union. They rather see it as an instrument of pulling these countries further away from Russia."
Greek Prime Minister Alexis Tspiras is also expected to hold talks on the sidelines of the summit with the leaders of France and Germany.