Expectations low for EU summit amid fears of provoking Russia
Comments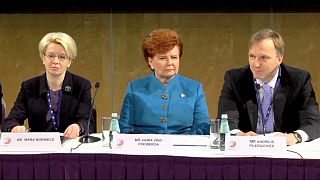 EU leaders are set to meet in Riga, Latvia, to discuss how the bloc can forge closer ties – or not – with six of its eastern neighbours.
They include Ukraine, Georgia, Moldova, Armenia, Belarus, and Azerbaijan.
But there are some concerns that the meeting could raise tensions further with Russia.
The Euromaidan protests in Ukraine came after former president Viktor Yanukovich's U-turn on signing a trade deal with Europe, favouring closer ties with Moscow.
That trade deal will be implemented from January 1, 2016, but the Reuters news agency reported on May 5 that the Kremlin wants that date postponed by one year.
Today, the Ukrainian government has aspirations to join the European Union.
But some say the country is a long way off that goal.
"Nevermind the European Union, the light at the end of the tunnel should be what your country is like and how it is performing, for your own sake. Nevermind Europe, that's sort of the icing on the cake. The cake is what you yourself do," said Vaira Vike-Freiberga, a former Latvian president.
With the conflict still raging in eastern Ukraine, the meeting will offer a show of support for the country.
But the summit will offer little else to the five other countries amid fears of further provoking the Kremlin.
"I understand very well the Russian position because Russia is carefully looking at what is happening by its borders," said Jānis Urbanovičs, a member of Lativia's pro-Russian opposition party, Harmony.
A draft seen by Reuters makes no mention of the aspirations of other nations in the EU's neighbourhood to eventually join the 28-member bloc.
In addition to Ukraine, Georgia and Moldova say they want to the EU.