NGOs, left-wing MEPs seek tougher rules on 'conflict minerals'
Comments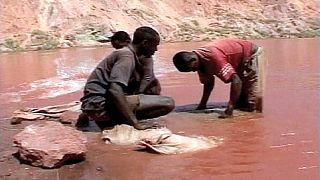 Campaigners are calling on MEPs to toughen up European rules on 'conflict minerals'.
The European Parliament is set to vote on European Commission proposals to limit imports of four minerals from countries gripped by armed conflict or at risk of conflict.
It proposes a self-certification scheme to prove that tin, tantalum, tungsten and gold in their raw form do not come from mines in war-torn regions.
More than one hundred and fifty groups have signed a letter saying any scheme should be mandatory.
Many such minerals are used in tech gadgets such as smartphones or tablets.
Green and centre-left MEPs agree that an opt-in scheme doesn't go far enough.
The vote on the draft will take place on Wednesday 20 May.
Any text voted for by MEPs will also require the approval of EU governments before it can become law.