Hugely significant election win in Britain for Conservatives
Comments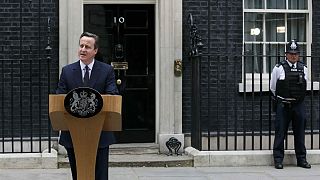 The 2015 British election has thrown up a stunning result that confounded the opinion polls and returned David Cameron and his Conservatives to power, alone.
Their coalition partners were destroyed and the UKIP challenge failed to materialise.
The main opposition Labour party suffered a bloodbath in Scotland, where English-based parties collapsed.
"And of course, it means bringing together the different nations of our United Kingdom. I've always believed in governing with respect," said Cameron.
"In this parliament I will stay true to my word and implement as fast as I can the devolution that all parties agreed for Wales, Scotland and Northern Ireland," he added.
Many accused Cameron during the campaign of scaremongering that Scottish MPs would run the country with Labour.
"We can make Britain a place where a good life is in reach for everyone who is willing to work and do the right thing. And yes, we will deliver that in-out referendum on our future in Europe," he added.
Despite UKIP's poor showing and sealing five more years in power, this time without any inconvenient partner, Cameron felt obliged to raise Europe in his victory speech, instead of quietly letting the issue die.
Having waged political war at home, Cameron now appears determined to open his European front, setting the scene for a potentially divisive 18 months before a referendum.
Vote and seats percentages compared:
(Photo Gallery)
Some of the best photos from this unpredictable general election. Follow our live coverage for all the latest news and results: http://eurone.ws/MGDh4

Posted by euronews on Friday, May 8, 2015