EU leaders gather for migration summit
Comments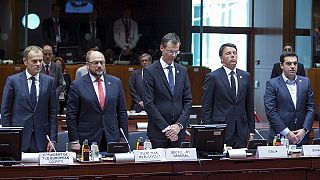 European leaders bowed their heads during a minute of silence for the 800 migrants who drowned off the coast of Libya on Sunday while attempting to reach Italy.
As the heads of state and government arrived at Thursday's (April 23) special European Council summit on migration, most spoke of the need for a unified policy that shares responsibilities across all 28 member states.
"The tragedy in Lampedusa and the shocking reality we face every day in the Aegean underline the need for the EU to develop an effective and human policy on immigration based on solidarity, particularly for the frontline Mediterranean countries," Greek Prime Minister Alexis Tsipras said before heading in to the meeting.
Leaders also agreed on the urgent need to save lives and expand rescue operations. But Britain's David Cameron remained cautious on the question of accepting greater numbers of refugees.
"What I'll be offering today is the Royal Navy flagship HMS Bulwark, but also three helicopters and two other border patrol ships, all of which will be able to help with these operations," he told reporters outside the European Council headquarters where the meeting started at 1600 local time. "Of course under the right conditions, and that must include that people that we pick up and people we deal with are taken to the nearest safe country – which is likely to be Italy – and don't have immediate recourse to claim asylum in the UK."
Protesters outside the meeting in Brussels called on the EU to provide safe and legal ways for migrants to seek asylum in Europe.
Some 21,000 migrants have already reached Italy this year and more than 1,700 have died making the attempt. According to rights group Amnesty International, the number of migrants who have drowned since the start of the year is 100 times greater than during the first four months of 2014.