Send defensive weapons to Ukraine, top Kiev official tells EU
Comments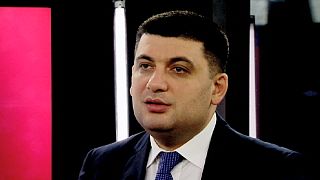 The EU should send defensive lethal aid to Ukraine to help the country protect itself from Russian-backed separatists, the speaker of the Ukrainian parliament Volodymyr Groysman said in an interview broadcast on Wednesday.
Groysman's call echoes similar statements made by Ukrainian leaders over the past few weeks, but they come shortly after the UK surprised many European officials by announcing it would send troops to train the Ukrainian army.
"There must be peace. The aggressor has to return to his country. And this is the script that should be followed," he told euronews in an interview recorded on February 24th.
"Everything about other scenarios – all scenarios are possible. But the aggressor will act as long as the civilized world will allow him to do so."
The 37-year-old politician added the bloc should keep up pressure on Moscow through strengthening its sanctions against Russian officials, saying such move would be "one of the important factors in stopping the aggression."
Russia has continually denied any involvement in backing the separatists in eastern Ukraine.
The leaders of France, Germany, Ukraine and Russia met in Minsk, Belarus on February 12 to broker a ceasefire agreement.
But OSCE monitors say the deal is not holding as there was continued fighting between Ukrainian armed forces and the separatists over the weekend.
UN estimates say at least 5,800 people have been killed in the violence, which erupted back in April.