EU eyes fresh Russia sanctions amid Greek opposition
Comments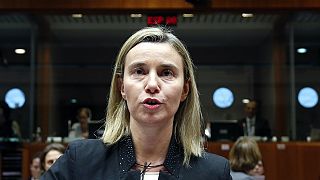 EU foreign ministers met in Brussels on Thursday with a view to imposing further sanctions on Russia amid opposition from the new Greek government.
It is seen as being closer to Moscow than the previous centre-right administration.
France's Secretary of State for European Affairs Harlem Desir said the EU should "apply the necessary pressure, including the extension and widening of individual sanctions against separatists, against those who threaten the territorial integrity of Ukraine, against those who are supporting the military action of the separatists."
But he stressed that all 28 members of the European Union wants "a negotiated solution" to the conflict.
"It's not unthinkable that today's discussions will be somewhat complicated by the approach of the Greek government," said German foreign minister Frank-Walter Steinmeier.
Some analysts have said that Greece is using its stance on Russia as a bargaining chip with the rest of the EU over reducing its debt pile.
But Greece's new foreign minister, Niklos Kotzias, dismissed talk of a rift with the EU.
"Greece is working for the restoration of the peace and stability in Ukraine, and at the same time is working for preventing breach between EU and Russia," he told reporters.
But EU sources say that Athens strongly opposed extending sanctions linked to Russia's annexation of Crimea in a meeting of ambassadors earlier.
Ukrainian foreign minister Pavlo Klimkin, who earlier met with NATO Secretary General Jens Stoltenberg and EU foreign policy chief Federica Mogherini, warned that "another heinous terrorist act could bring about a whole spiral of violence in a totally different direction."