EU edges closer to airline data sharing after Charlie Hebdo attacks
Comments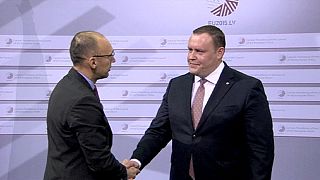 The EU wants to collect and store air passenger data in a move that officials say will help fight against terrorism.
The bloc's interior ministers met in Riga on Thursday in the wake of the Paris attacks earlier this month.
Thomas de Maizière, German interior minister said, that Berlin wants to tighten controls on the EU's external borders.
"We also want to improve the exchange of information via Europol and we are really pressing for the implementation of the Passenger Name Record agreement."
But the so-called PNR proposal has drawn criticism from civil liberties campaigners, who claim it goes too far in invading individual privacy.
Centre-left groups in the European Parliament voted down a proposed law in 2013, but the Charlie Hebdo attacks have seen EU officials quickly seeking to revive it.
Having police help social media networks track down and uncover potential terror groups is another idea, according to the EU's anti-terrorism czar Gilles de Kerchove.
"The company operating twitter is not able to detect illegal content, because the volume of tweets is too large. therefore, we need to help these companies somehow," De Kerchove told euronews.
"So what the British did it put a unit inside Scotland Yard, which tells Google, Facebook tells them when some content is in contradiction their codes on conduct. This is some kind a way to help them doing a clean-up."
The meeting of the 28 member states comes amid increased debate on how to tackle anti-terror groups.
After a series of police operations in France, Belgium and Germany, euronews' Margherita Sforza says "it's time for European politicians to act and to show how they can work together against terrorism"
Ministers are preparing measures that will be discussed by EU leaders in Brussels on February 12th.