EU pushes for quick decision on new anti-terror law
Comments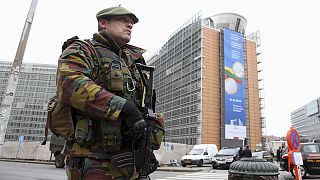 The EU wants a quick decision on a new law that will force governments to share air passenger data.
The draft bill, first proposed in 2011, is being looked at again after the Paris attacks amid fears about returning jihadists from Syria.
A committee of MEPs rejected the legislation in 2013.
Senior officials also want tougher checks on the EU's external borders.
Frans Timmermans, first vice-president of the European Commission, said the EU executive would "step up" its efforts politically.
"I think the response should be determined, measured, and also well thought through," the former Dutch foreign minister told euronews.
"There is no need to an knee-jerk reaction now.That will not help the situation."
The threat posed by ISIL has reignited the debate over how to fight terror.
But civil liberties campaigners say the collection and sharing of passenger data across Europe is a step too far, and that some governments might be tempted to misuse it.