EU pledges better cooperation with Muslim countries in the fight against terror
Comments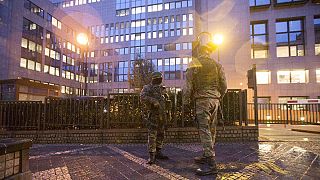 "We are determined to do what is necessary to keep Europe safe from the terrorist threat," said British Foreign Secretary Philip Hammond on Monday (January 19).
He was among 28 EU foreign ministers to attend a meeting in Brussels. There, delegates pledged to adopt better strategies at home and abroad in an effort to counter radicalised Muslims returning from Syria and Iraq.
EU Foreign Policy Chief Federica Mogherini called for better collaboration between EU member states, but also with Muslim countries.
"We took a decision with the Foreign Affairs Council to coordinate in a much more active way than has been the case so far. First of all, with the sharing of intelligence and other information, not only within the EU, but also with other countries," she said.
"The threat is not only the one we faced in Paris, but also spreading in many parts of the world, starting in Muslim countries. We need to share information more. We need to cooperate more," she added.
Secretary General of the Arab League, Nabil El-Araby, appeared to be in favour of the proposal.
"The Arab League is not part of a coalition, since it is not affected by arms usage," he said. "We're discussing a comprehensive strategy to confront terrorism. So, the ground needs to be prepared so events such as this don't happen again and to convince those who commit these acts that terrorism must be banned because they'll be faced with the full force of the law. This is what happened in Europe with the Red Brigades and the Baader-Meinhof Red Army Faction. But recent events in Europe have had nothing to do with Islam – Islam does not call for terror."
This was the first of a string of meetings which will culminate in a summit of EU leaders on February 12 and 13.
Other priorities include: clamping down on arms trafficking; offering support for police in the Middle East and North Africa; trying to stop EU citizens travelling abroad to fight; and seeking to suppress radical Islam online to prevent EU citizens bringing violence back onto home soil.