Belgium seeks to tighten anti-terror laws
Comments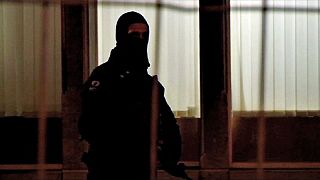 Belgium's government will speed up the introduction of new anti-terror laws after Thursday's police raid in the east of the country, Prime Minister Charles Michel said on Friday.
Michel plans to legislate for new offences such as travelling abroad to commit terrorist acts, strip people of their citizenship and withdraw their identity cards.
They figure amongst a total of 12 measures that ministers will introduce as soon as possible.
Belgium is on its second highest level of terror alert and Jewish schools in Brussels and the port city of Antwerp were closed Friday.
"I think it is quite justified to have a level of general alert, but as the Prime Minister said: Are there very specific elements against very specific targets? No," said Alexander De Croo, the country's deputy prime minister.
Two suspected terrorists were killed and a third was wounded in the shootout at their alleged hideout on Thursday.
Belgian police have arrested another thirteen people on Friday and seized more weapons in a series of raids.
All of those killed or arrested had Belgian nationality; some had travelled to Syria.
"They will be brought before the investigating judge at whom we asked to give an arrest warrant. If that arrest warrant is given by the investigating judge they will be brought before a court. Within five days we will decide over their further detention in prison," said Eric Van Der Sypt, the Belgian prosecutor's spokesperson.
Officials say the suspected terrorists had hatched a plan to kill police officers and attack police stations across the country.
Euronews correspondent Rudolf Herbert reports that shock still runs deep from the police actions on Thursday
He says the country still bears the scars from last summer's attack at the Jewish Museum in Brussels, which left four people dead.